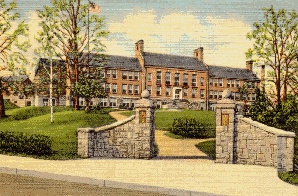 Fairmont Senior High School
Loop Park
Fairmont, West Virginia 26554
Phone - 304-367-2150
Fax - 304-366-5988
Web site - http://fhs.mari.k12.wv.us
Directions -
From I-79 North or South, take the South Fairmont exit, number132(Whitehall) and turn onto Route 250. Turn left onto 250 South and go approximately 3 miles, the Apple Valley Golf Course turnoff is on your right (home of the Polar Bear Cross Country). Turn Rith onto 250 North and proceed towards Fairmont approximately 2 or 3 miles to the first traffic light at the bottom of Watson Hill. There is a Pizza Hut on your left. At this intersection if you turn left onto Mary Lou Retton Drive you will pass the Woody Williams Armory (home of Polar Bear Boys Basketball) or you may continue on to Mary Lou Retton Youth Park (home of Polar Bear Baseball). Proceed through the light, accross the bridge and up Fairmont Ave. (Route 250 North), at the second traffic light, 12th Street, you may turn right and go two blocks to East-West Stadium (home of Polar Bear Football, Track and Field). Turn left at the 4th traffic light onto 7th Street. Fairmont Senior High School is approximately 5 blocks on your left. Turn left the first block past the school and the parking lot is on your immediate left, this is the parking lot for facilities located on the main campus, the second building on the left is the New Gym (home of Polar Bear Girls Basketball and Wrestling). Continue on 7th Street (whichturns into Oakwood Road at the high school) three more blocks to Locust Ave. (next traffic light). Turn left onto Locust Ave and go through the next traffic light (1 very short block), the entrace for Fairmont State College is on the right just after the traffic light (FSC is the home of Polar Bear Swimming). Soccer and softball facilities are located in Rivesville at Rivesville Middle School. To get to Tivesville proceed through the traffic light at the intersection of Fairmont Ave. and 7th Street towards downtown Fairmont, go through the 6th traffic light after the 7th Street intersection light (the Marion County courthouse is on your left at this intersection), at this point Fairmont Avenue (Route 250 North) merges with Route 19 North and proceeds approximately 3.5 miles to Rivesville. Look for the Fairview/Baxter Road after you pass the B-P MiniMart on your left, cross two sets of railroad tracks and look for the Rivesville Middle School sign on your left, Make a left turn at this sign and go three blocks and look for another Rivesville Middle School sign on your right, turn right at this sign and the school is at the end of this street. The street runs into the school parking lot. The soccer field and softball field are beyond the parking lot behind the school.

Principal - Chad A. Norman
Assistant Principal- L.D. Skarzinski
Dean of Students- Rusty Campbell
Athletic Director - Dennis Hermosilla
Football - J.L. Abbott
Wrestling - Mark Delligati
Boys Soccer - Jim DiNardi
Girls Soccer - Debbie Cattafesta
Volleyball - Dabby Tennant
Boys CC- Chris Neptune
Girls CC- Charles Snyder
Golf - Stephen Sandor
Boys Basketball - David Retton
Girls Basketball - Meredith Anderson
Baseball - Steve Naternicola
Softball - Kenny Beerbower
Swimming - Steve Sandor
Boys Tennis - Robin Satterfield
Boys Track -
Girls Track - Terry Ash
Cheerleading - Nathy Janes
Boys Lacrosse- Jon Cain
Girls Lacrosse- Kim DeNardi