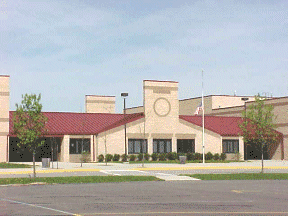 Elkins High School
100 Kenedy Drive
Elkins, West Virginia 26241
Phone - 304-636-9170
Fax - 304-636-9168
Web site - www.wvonline.com/ehs
Directions - Entering Elkins from Route 33 East take the second Elkins exit (250-219 South) Stay on 250 South straight through town.
Swimming, Cross Country - Go through two lights, turn left at the Iron Horse statue, go 1.75 miles and turn left at D&E Athletic Field sign. (Swimming is in front of building at the top of the lot.)
Soccer - From 250 South turn right at McDonalds and go through one light.Turn left at stop sign, entry to Riverbend Park is approximatly 200 yards on your right.
Football(Wimer Field) - From 250 South turn right at McDonalds and then turn left at the first light (Davis Ave.) Wimer Field will be about 300 yards on your left.
Track, Basketball, Volleyball, Wrestling - Go straight through Elkins on 250 South. Turn right at the third light after McDonalds. Parking lot entry is about 150 yards on your left.
Baseball - Turn right at the first light on 250 North. Travel approximatly 2 miles. Turn left aat the light. Robin Harvey field will be one block on your left.

Principal - Tom Pritt
Assistant Principal - Terri Gainer
Athletic Director - Ted Williams
Cheerleading - Elizabeth Arbogast
Cross Country - Shelly Burda
Football - Greg Hott
Golf - David Baird
Boys Soccer - Andy Montgomery
Girls Soccer - Nancy Saffle
Volleyball - Penny Crawford
Boys Basketball - Steve Wamsley
Girls Basketball - Nancy Lewis
Swimming - Kit Phillips
Wrestling - Rick "Potato Chip" Haveron
Tennis -
Baseball - Ted Williams
Softball - Bob Smith
Boys Track -
Girls Track - Shelly Burda